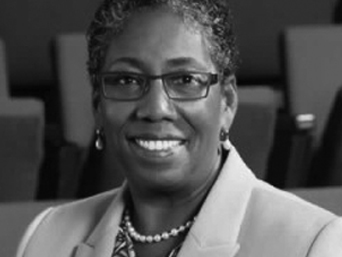 Joan P. Garner
Commissioner, District 4,
Fulton County
---
Commissioner Joan P. Garner is the Commissioner for District 4, which encompasses the heart of the City of Atlanta, Midtown, and neighborhoods west of downtown Atlanta to Fulton Industrial Boulevard. She is a native of Washington DC. She made Atlanta her home in 1978. Commissioner Garner earned a Bachelor of Arts Degree in English from the University of the District of Columbia. Commissioner Garner received a Master's Degree in Organizational Communication from Howard University.
Commissioner Garner currently serves on the following boards and committees.
National Association of Counties (NACo):
•Health Steering Committee Member
•Chair of the Medicaid and Indigent Care Subcommittee
•Chair of the Healthy Counties Initiative Advisory Board
Association of County Commissioner of Georgia (ACCG):
•Health and Human Services Committee Member
•Chair of the Community Healthcare-Integrated Approaches Subcommittee
She is also the Champion for the Fulton County "Let's Move: Cities, Towns and Counties" initiative and was appointed to a 3 year term on Foreverfamily's National Advisory Board.
She has been known for her work in the non-profit sector and for her community leadership. Her community service history is extensive. A few of the Boards she has served on are the Atlanta Beltline Affordable Housing, Metropolitan Community Development Corporation, Council of Foundations, United Way of Metropolitan Atlanta, Lambda Legal Defense and Educational Fund, Southerners on New Ground, Georgia Share Funding Exchange, Southern Reinvestment Ventures and Fourth Tuesday Incorporated. She was appointed to the Transition Team of Mayor Elect Maynard Jackson and the Atlanta Olympic Citizen's Advisory Commission. She also served as Senior Advisor on Gay and Lesbian Issues under Mayor Jackson. Under Mayor Kasim Reed, Commissioner Garner served as a member of the Public Works Commissioner Search Committee.
As an entrepreneur, Commissioner Garner founded Garner Results, Inc., a consultancy that develops giving strategies and provides management support to the non-profit and philanthropic communities. Commissioner Garner was previously President and CEO of the Historic District Development Corporation, a community-based, nonprofit organization that facilitates the preservation and revitalization of the Martin Luther King, Jr. National Historic District and other  historic/preservation communities. She has served as Executive Director of the Southern Partners Fund, a community-based public foundation committed to equal rights. She has held the position of Co-Director of the National Network of Grant Makers, which supports social justice work; and, as Executive Director of the Fund for Southern Communities, which fosters social change in Georgia, North Carolina and South Carolina. Commissioner Garner also served as Chair of Neighborhood Planning Unit-M.
Commissioner Garner currently resides in the Historic Old Fourth Ward neighborhood with her partner, Judge Jane Morrison.