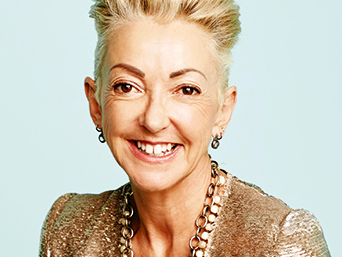 Jane Wurwand
Founder and Chief Visionary, Dermalogica®, The International Dermal Institute® and FITE
---
Jane Wurwand is an innovative business visionary who opens doors for global women's economic empowerment and professional development. She is the co-Founder and Chief Visionary of Dermalogica and The International Dermal Institute, which are recognized as game-changing brands within the sphere of professional skin care education. Today, Dermalogica products are the number one choice of more than 100,000 professional skin therapists in more than 100 countries worldwide. In recognition of her accomplishments in revolutionizing the professional skin care industry, Jane was honored with a 2014 Achiever Award by CEW (Cosmetic Executive for Women), the largest industry organization in the United States.
In 2011, after three decades of work in the skin care industry where the vast majority of ownership and work-force is female, Wurwand founded FITE (Financial Independence Through Entrepreneurship) to help support women entrepreneurs around the world. A social impact initiative that creates pathways to entrepreneurship by providing access to small loans, business resources, education and leadership training, FITE has to-date assisted more than 75,000 women in gaining financial independence worldwide.
Wurwand spoke before the United Nations (UN) as the keynote speaker in 2011, committing to fund 25,000 women-owned small businesses worldwide (a goal that was surpassed in 18 months). She returned to the UN in 2012 to participate on a panel that addressed "The Role of Business in Empowering Women." In 2014, Dermalogica's FITE Sponsorship of the UN Foundation's work on Innovation and Entrepreneurship began, including its participation at the Global Accelerator conference held at the UN in NYC where Wurwand spoke on the issue of women's economic empowerment. In June of 2016, she was appointed a Presidential Ambassador for Global Entrepreneurship, one of a prestigious group of America's top entrepreneurs who work with the Federal Government to help develop the next generation of entrepreneurs both at home and abroad.
Since 2010, Wurwand has been a member of the Clinton Global Initiative (CGI), and is part of their Women and Girls Action Committee. Wurwand also serves as a special advisor to the UN Foundation's Global Entrepreneurs Council, supporting their work with the UN to advance women and girls.
Wurwand's expertise on entrepreneurship has been frequently sought out by the media, including Bloomberg, MSNBC, Inc.'s "The Playbook" online video series, Entrepreneur magazine's "Trep Talk" and People magazine. In 2012, she was named CEO/Business Owner of the Year by the Los Angeles Business Journal. Wurwand is also a Huffington Post blog contributor where she writes on her passion for women in business and entrepreneurship.
Wurwand is an active Luminary Member of Step Up Women's Network as well as mentors graduate students and serves on the Board for the Price Center for Entrepreneurial Studies at The Anderson School of Business Management UCLA.
Born and raised in the United Kingdom, Wurwand travels year-round as a speaker, and lives and works in Los Angeles, where her global headquarters are located. She and her husband, Raymond are parents of two daughters.