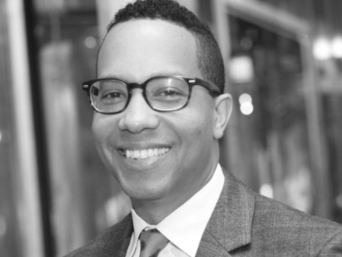 James Felton Keith
Chief Operating Officer, Accrue Inc.
---
A co-founder and chief operating officer of financial technology firm Accrue Inc., James Felton Keith leads a team that harnesses the power of Big Data and machine learning to offer robust predictive analyses of the financial markets to institutions and individuals. He was the first CEO of the Detroit Regional LGBT Chamber of Commerce, and has succeeded in introducing workplace equality and supply diversity policies into global corporations in Michigan through the LGBT+A [Ally] Chamber. "My passions are rooted in inclusion and distribution of value," he says.
James received a bachelor's degree in mechanical engineering from Tuskegee University a master's in finance and liberal arts from Harvard University, and an MBA, with a focus in information technology, at Lawrence Technological University in Michigan. His work as a management consultant allowed him to travel worldwide for such leading companies as Sapiens International Corp., Hewlett-Packard, Eskom Holdings, DaimlerChrysler, and City of Detroit. "I've lived in Africa, Asia, Europe and North America during the 2000s and have traveled those continents extensively. I'm unsure if I can count the cities I've visited," he declares.
James attributes much of his success to the guidance of Earl Winters, a former Green Beret and special forces operative; Frank Fountain, a former executive at DaimlerChrysler; and Steven Rogers, his Dad. He recalls Fountain's advice: "There is no way to work your way up. You have to create value to be an executive."
On Jan. 1, 2013, Keith co-founded the Keith Institute in Detroit, a tutoring and research institute focused on tutelage, mentorship and education. "Our objective was to focus on supplementing the existing education infrastructure for youth, to provide more opportunities for access to economic growth," he explains. The institute currently administers education initiatives in three counties of Southeast Michigan, catering predominantly to African-American and LGBTQ youth.