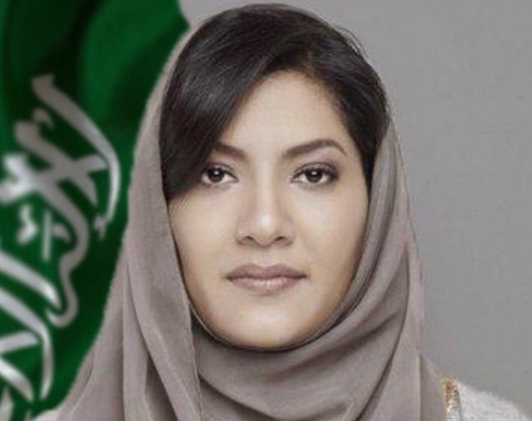 HRH Ambassador Reema Bandar Al Saud
---
Her Royal Highness Princess Reema bint Bandar Al Saud was appointed Ambassador to the United States on February 23, 2019, by the Custodian of the Two Holy Mosques King Salman bin Abdulaziz. She is the first woman in the country's history to serve in the role of Ambassador. She presented her credentials to President Donald Trump on July 8, 2019.
In Saudi Arabia, Princess Reema focused on private sector initiatives and the empowerment of women in the Kingdom. From 2007 until 2015, Princess Reema was the Chief Executive Officer of Alfa International Company Limited – Harvey Nichols Riyadh, a multi-brand luxury retail company, during which she commissioned a study on Obstacles for Women in the Workplace, which set the tone for female inclusion in retail and resulted in opening the first workplace nursery. In 2013, she founded Alf Khair, a social enterprise aimed at elevating the professional capital of Saudi women through a curriculum developed to enable financial self-sufficiency.
In 2016, Princess Reema left the private sector to begin a career of public service as Vice President of Women's Affairs at the Saudi General Sports Authority where she developed policies and programs that benefited women and children throughout Saudi Arabia. After a successful year, she was promoted to Deputy of Development and Planning in January 2018. In October 2018, she was also appointed President of the Mass Participation Federation, making her the first woman to lead a multi-sports federation in the Kingdom, a role that she occupied until her appointment as Saudi Ambassador to the United States.
As part of her philanthropic work, Princess Reema became a founding member of the Zahra Breast Cancer Awareness Association in 2007, which set a Guinness World Record by forming the World's Largest Human Awareness Ribbon at Princess Noura University in Riyadh in 2015.
She received a Bachelor of Arts in Museum Studies from George Washington University and an honorary doctorate from Marymount University.
Princess Reema has served as a member of the World Bank's advisory council for the Women Entrepreneurs Finance Initiative from 2017-2019. She has been a member of the Saudi Arabian Olympic Committee since 2017 and a member of the International Olympic Committee (IOC) Women in Sports Commission since 2018 and a member of the IOC Sustainability Committee since 2022. She is also a member of the IOC Brisbane 2032 Coordination Commission.
Princess Reema also serves as the Head of the Executive Committee for the Fashion Commission at the Ministry of Culture, and as an Honorary Chairman of the Saudi Special Olympics. Princess Reema is a member of the Voting Council for the RBG Awards. Finally she is the Founder of Catmosphere (2021) as well as a Board Member for Panthera's Conservation Council and the Future Investment Initiative.