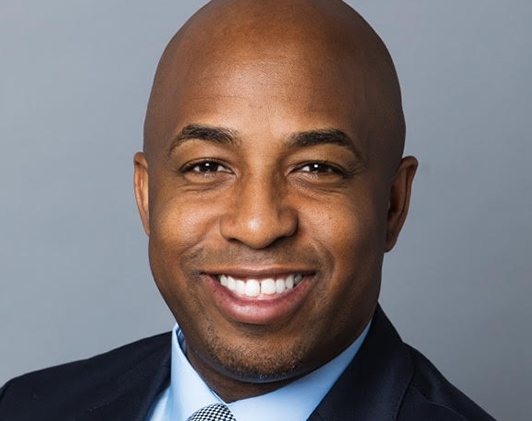 Hon. Chris Rey
International President, Phi Beta Sigma
---
Chris V. Rey was born in St. Thomas, U.S. Virgin Islands, but grew up in Spring Lake, North Carolina.  He earned academic honors and was a track & field All-American.  He attended East Carolina University on a full athletic scholarship.
In 2000, Bro Rey enlisted into the U.S. Army as a computer information technology analyst. After two short years, he was commissioned a second lieutenant in the Signal Corps through The U.S. Army Officer Candidate School. Thereafter, he saw deployments to Iraq and Afghanistan. His service and leadership in the armed forces earned him numerous military awards and accolades including the Bronze Star and the Meritorious Service Medal.  
In 2008, Bro. Rey was elected to the United States Electoral College where he officially cast the vote to elect the President and Vice President of the United States. In 2011, Bro. Rey was elected the youngest Mayor of his hometown, Spring Lake, North Carolina where he served three terms.
Bro. Rey's leadership in Phi Beta Sigma Fraternity, Inc. began in the fall of 1996 where he was initiated into the Xi Nu Chapter on the campus of East Carolina University.  Over the last 25 years he has served as an undergraduate and graduate chapter president; International Second Vice President; International Director of Collegiate Affairs; International Director of Technology; 16th Southeastern Regional Director, faculty member of The Sigma Leadership Academy, International Director of Social Action, International First Vice President, and in 2021 was elected International President of Phi Beta Sigma Fraternity, Inc.  Bro. Rey has the distinction of being the first Sigma Man to hold the office of International 2nd Vice President, International 1st Vice President, and International President.
Professionally, Bro. Rey is the President and CEO of Capitol C2 Global Strategies, Inc.  a consulting firm with a focus on business development for corporate and non-profit clients. For the last decade he has also served as an adjunct professor where he has taught classes on organizational leadership, business law, constitutional law, criminal law, juvenile justice, criminal courts, and cyber-crimes. 
Bro. Rey continues his military service as an officer in the National Guard where he serves as the senior human resource officer for the U.S. Army Communications Electronics Command.  In this role he provides support to senior military officers that sustain and deliver command control, communications, computers, cyber, intelligence, surveillance, and reconnaissance readiness strategies for American Soldiers. 
Bro. Rey holds a Bachelor of Science in Business Administration with a concentration in Information Systems, and a Juris Doctor Degree from William & Mary School of Law.