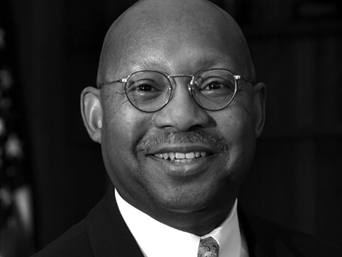 Honorable Alphonso Jackson
Former U.S. Secretary of Housing and Urban Development;
Vice Chairman and Managing Director, Global Regulatory Policy and Strategy JPMorgan Chase
---
Former United States Secretary of Housing and Urban Development (HUD) Alphonso Jackson has joined First Data, the global leader in payment technology and services solutions, as a Senior Advisor. In this role, Secretary Jackson's primary objectives will be to strengthen First Data's government relations and public policy initiatives, and advance the company's government business opportunities.
"We are honored to have Secretary Jackson as part of the First Data team," said Himanshu Patel, Executive Vice President, Strategy, Planning & Business Development at First Data. "With a lifetime of engagement on national issues, from his participation in the Selma-to-Montgomery March in 1965 to his service in the cabinet, Secretary Jackson brings a breadth of leadership skills and relationships to our company."
Prior to joining First Data, Secretary Jackson was Vice Chairman of Mortgage Banking with JPMorgan Chase. Before that, he served as the Director of the Center for Public Policy and Leadership and as the Distinguished University Professor at Hampton University.
Nominated by President George W. Bush and unanimously confirmed by the U.S. Senate, Secretary Jackson served as HUD Secretary from 2004 to 2008. His work at the HUD began in June 2001, when he was appointed Deputy Secretary. In that role he managed the daily operations of the $32 billion agency. His service at the federal level grew from his seven years as president and CEO of the Housing Authority of the City of Dallas, from 1989 to 1996, where he was credited with turning around the troubled municipal agency, making it one of the best-managed large city housing agencies.
Immediately preceding his move to Washington in 2001, Secretary Jackson was the President of American Electric Power-TEXAS, a $13 billion utility company in Austin, Texas. He joined Central Southwest Power, which later became American Electric Power, in 1996.
Secretary Jackson was also the director of the Department of Public and Assisted Housing in Washington, D.C., and served as Chairperson for the District of Columbia Redevelopment Land Agency Board. He was the Director of Public Safety for the City of St. Louis, Missouri, and served as the Executive Director for the St. Louis Housing Authority. He was also Director of Consultant Services for the accounting firm of Laventhol and Horwath in St. Louis and was a Special Assistant to the Chancellor and Assistant Professor at the University of Missouri.
Secretary Jackson received a bachelor's degree in political science and a master's degree in education administration from Truman State University. He also earned a law degree from Washington University School of Law.
About First Data
First Data is a global technology leader in the financial services industry. With 24,000 employee-owners and operations in 35 countries, the company provides secure and innovative payment technology and services to more than six million merchants and financial institutions around the world, from small businesses to the world's largest corporations. Today, businesses in nearly 70 countries trust First Data to secure and process more than 2,000 financial transactions per second, totaling $1.8 trillion a year. First Data's unparalleled infrastructure and partnerships go "beyond the transaction" with next-generation point-of-sale technology fueled by powerful analytics to detect fraud, gain insights into consumer spending, and strengthen customer loyalty. All day, every day, First Data helps its clients thrive in the evolving world of commerce.