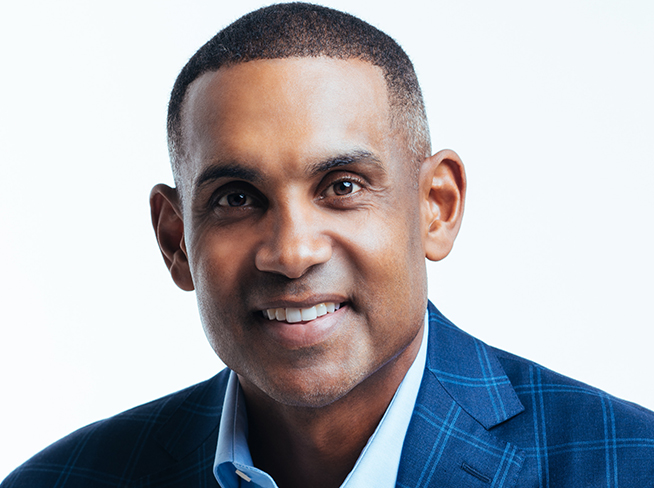 Grant Hill
NBA Hall of Famer and Founder, Hills Ventures
---
One of the most accomplished NBA and college players of his generation, Grant Hill was officially inducted into the Naismith Basketball Hall of Fame as a first-ballot member of the 2018 class. The seven-time NBA All-Star and two-time NCAA Champion has made the successful transition from 19 years as a professional athlete to leadership in business along with several television broadcasting roles. With a variety of college and professional experiences, both on and off the court, Grant was named one of five independent directors to the NCAA's Board of Governors in 2019. Additionally, the NBA Retired Players Association named Grant a board member and an officer. Grant also serves on the Board of Directors for the Naismith Memorial Basketball Hall of Fame, the NCAA and Lake Highland Preparatory School.
Shortly after he entered the NBA in 1994, Grant established Hill Ventures, a private company through which he has successfully invested in commercial real estate ventures including several multi-family complexes and other commercial real estate in Florida, Arizona, North Carolina and Washington, D.C. Grant is a featured speaker before business, academic and large sales audiences addressing a range of topics including the NBA, the importance of teamwork, the private equity business, art, music and contemporary culture.
Grant also has significant and important broadcasting roles with CBS Sports, Turner Sports and NBATV. In 2015, Grant was added as a game analyst for the NCAA Final Four and National Championship game. He joined Bill Raftery and Jim Nantz to call games together throughout the tournament. Additionally, Grant has substantial on-site responsibilities during the TNT broadcast of the NCAA March to the Final Four and their coverage of the NBA Playoffs. Grant is also a studio analyst on NBA TV's GameTime. During those broadcasts, Grant opines on issues of the past week in the NBA and provides contemporaneous commentary on that night's 10-12 NBA games while in progress. Grant also serves as an occasional studio analyst on TNT's Inside the NBA.
Prior to the NBA, Grant was two-time national champion at Duke University. He spent four years playing for the Blue Devils and was inducted into the Duke Athletics Hall of Fame Class of 2016 for his contributions to the program. Grant was named the 2017 recipient of the NCAA President's Gerald R. Ford Award, recognizing his significant leadership as an advocate for college sports.
Hill lives in Orlando with his wife, Tamia, a 7-time Grammy-nominated singer, and their two daughters.