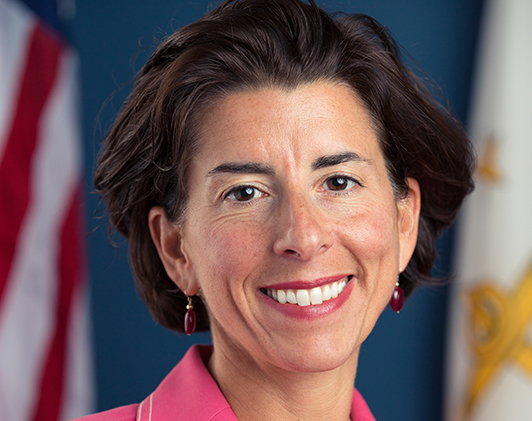 Hon. Gina Raimondo
U.S. Secretary of Commerce
---
Gina M. Raimondo serves as the 40th U.S. Secretary of Commerce and was sworn in by Vice President Kamala Harris on March 3, 2021. As Secretary of Commerce, she is focused on a simple but vital mission — to spur good-paying jobs, empower entrepreneurs to innovate and grow, and help American workers and businesses compete.
Secretary Raimondo was formerly the 75th Governor of Rhode Island and its first woman governor. She grew up in Smithfield in a tight-knit Italian-American family, the youngest of Joseph and Josephine Raimondo's three children. Her family history and her childhood experiences shaped her core beliefs in hard work, opportunity for all, and the importance of financial security.
During her time as Governor, Secretary Raimondo kick-started the state's economy and made record investments in infrastructure, education, and job training. She focused tirelessly on creating economic opportunities and good-paying jobs for all Rhode Islanders. Early in her administration, she launched an innovative workforce development program that develops business-led partnerships to address unique workforce challenges.
Secretary Raimondo is married to Andy Moffit and they have two children, Ceci and Tommy, and a rescue dog, Sparky.