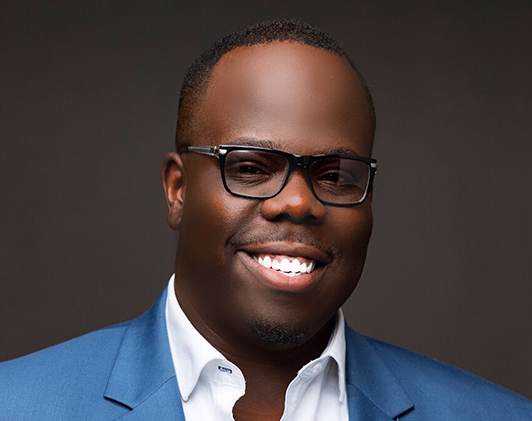 George Olokun
Executive Director, Next Big Thing Movement, Inc.
---
George "MrOpportunity" Olokun, one of the leading voices for millennials across the globe. Humanitarian, Serial entrepreneur, 5x Author, Speaker and Host that is often labeled his generations Oprah.
In 2013, George founded Next Big Thing Movement Inc, a global nonprofit social movement, that expands to 27 markets across 5 continents, focused on creating a collaborative ecosystem for creative millennials while connecting them to their parallel social responsibility for the humanity of others.
He currently hosts a live audience talk show that is now in its 5th seasons, named NBTTALKS (Next Big Thing TALKS), where there's an imitate dialogue with special guest that are on the pursuant path towards their Next Big Thing and they share their most intimate truths about their journey. Past guest range from Emmy Award Winning Journalist Monica Kaufman Pearson to Grammy Award Winning Rapper 2Chainz.
George specializes in business development, organization development, and personal development. A well respected thought leader and highly sought after speaker, ranked among the top 100 Notable Speakers in the Nation, well versed on just about any subject and will move just about any crowd. George travels all across the globe and has spoken for a list of major entities. From the conference room to the community, he is an extremely passionate individual that loves people and to help others overcome obstacles in their lives. George is the CEO of GDot Empowerment, LLC, founded in 2008.
As a visionary, George has been able to set the vision for many organizations that help to cultivate the lives of the current and future generation.The success of these organizations can only be attributed to the core focus on social awareness and educational advancement.
George has received many accolades, nominations, and awards for his commitment to making the lives of those he comes in contact with and the lives of those across the world better. Among these awards are a prestigious Top 40 under 40, TOP 30 under 30, and most recently the Top 35 Heirs List in New York. Since 2010, George has had five books published, Empowered To Achieve (2010), Mr-Opportunity: A Changed Mindset (2012), Exit Strategy (2014), What's Next? : The Journey To Self-Actualization (2018), and Pushing Past The Pain (2019)
In March of 2018, the award winning mentor program by the name of Mentor One, founded by George, celebrated 15 years of impacting the lives of thousands of high school and college level students.
George served as the Founding Chairman (2010-11) & 1st President of the EMERGING 100 of Atlanta (2011-2013); the young professionals auxiliary of the 100 Black Men of Atlanta, Inc., in addition to sitting on the board of directors for two non-profit organization and has held a plethora of other leadership/service roles.