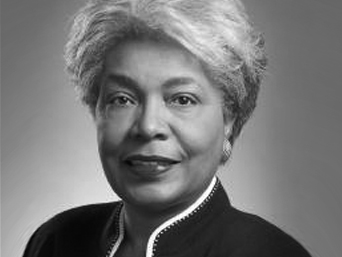 Esther Silver-Parker
President and Chief Executive Officer,
The SilverParker Group
---
Esther Silver-Parker is president and CEO of The SilverParker Group, a consultancy specializing in corporate responsibility and reputation, stakeholder relationship management and leadership development.
Before opening her firm in 2010, she served as senior vice president of Corporate Affairs at Walmart Stores Inc. At Walmart, she was charged with the strategic planning and execution of Walmart's stakeholder management efforts, in the U.S. and women stakeholders in countries around the world, where Walmart does business.
Prior to this position, she served as senior vice president of Diversity Relations for Walmart and was responsible for strategic planning and execution of Walmart's diversity efforts, as it relates to its supplier development, philanthropy, community relations, key national leaders and Walmart associates.
Before joining Walmart, Silver-Parker served as vice president of Corporate Affairs and president of the AT&T Foundation for AT&T. She also directed AT&T's National Constituency Relations and Issues Management Departments and led the company's award-winning corporate social responsibility programs.
Silver-Parker has received numerous awards, including Ebony Magazine's Outstanding Women in Corporate Marketing, the Congressional Black Caucus Unsung Hero Award, New York City Gus D'Amato Community Service Award, the National AIDS Fund's Leadership Award, the Asian Pacific Islanders Women's Leadership Starfish Award and the Latino Community Development Award. She is past president of International Women's Forum, an organization of 5,000 women leaders from 30 countries that focuses on issues and policies impacting women. Silver-Parker also serves on the boards of the Global FoodBanking Network and the Women's Foundation of Arkansas. She is a member of the NAACP Special Contributions Committee, the National Assessment for Education Progress Business Taskforce, the United States Tennis Association Diversity Board and the Southern Tennis Association Marketing Committee.