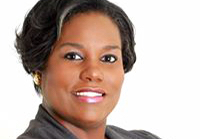 Erika Mitchell
Board Member, Atlanta Board Of Education
---
Erika Mitchell, the Atlanta native, multi-talented professional is a highly accomplished athlete and local public servant. As a graduate of Alabama State University, where she was able to take advantage of a full athletic scholarship, won numerous awards for her stellar athletic performance including the Indoor and Outdoor track and field South Western Athletics Conference (SWAC) Championships in 2001, 2002 and 2003. Mitchell earned her Bachelor's Degree in Business Administration with a concentration in Computer Information Systems yielding her the knowledge and opportunities to work for major global brands such as Coca Cola, Cbeyond and Kodak as an Information Technology (IT) specialist.
 
While the scholarly athlete with a sturdy background in Information Technology, she received a full scholarship from Esani Paul Mitchell partner school to become an licensed esthetics educator. Shortly after completing her educators degree, Mitchell began her teaching career at AVEDA Institute, where she taught histology and physiology of skin, created AVEDA first makeup artist curriculum and small business development. Mitchell Also provided State Board certified Continue Educational Units to professional cosmetologist and estheticians. 
​
Mitchell passion for volunteering lead her to volunteer her time to international pageants including Miss Africa USA and the Miss Latina US & Miss Latin America Del Mundo pageant. Through her dedication to volunteer work, she managed to incorporate her business skills and her love for beauty and founded La Reina Pageant Productions in 2010, which also produces Atlanta Latino Fashion Week, Atlanta Caribbean Fashion Week, Miss Georgia Latina™,  Miss Teen Georgia Latina ™ , Miss Alabama Latina and Miss Teen Alabama Latina pageants. As producer and state director, her vision is to mentor and create opportunities for Latinas and Caribbeans to pursue their goals and dreams while impacting the community through culture sharing and, most importantly, culture awareness. 
 
As the National Ambassador for the Arthritis Foundation, the President's Volunteer Service Awards, and the program advisor for Fuel Up To Play 60. Mitchell has served on boards and committees for the following organizations: NFL Alumni, Caribbean American Advancement Foundation and the Boys & Girls Club of Greater Atlanta. Mitchell is committed to bridging the gap with non-profits organizations and for-profit companies to support each other businesses in order to better serve the diverse communities.