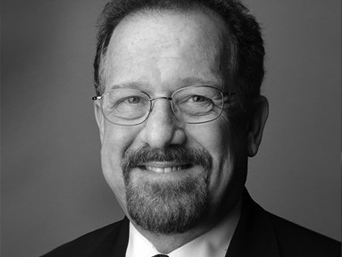 Ed Baker
Publisher,
Atlanta Business Chronicle
---
Ed Baker has been Publisher of Atlanta Business Chronicle for 28 years, one of the country's largest business journals with over 169,000 readers each week. In addition to his local responsibilities, Ed is Chief Strategic Officer of American City Business Journals, the parent company.
Ed grew up in Atlanta and is very active in the community. He serves on the boards of the Metro Atlanta Chamber of Commerce, Atlanta Convention and Visitors Bureau, Junior Achievement of Georgia, Georgia State University's Robinson College of Business, Atlanta Business League Foundation, Arby's Foundation, the Atlanta Sports Council, and the Atlanta Federal Reserve's Inflation Panel.
Prior to joining the Chronicle, Ed was a senior executive in the advertising agency business, having worked on the launch of cellular for BellSouth, The Weather Channel, and the Kawasaki Jet Ski at J. Walter Thompson and D'Arcy MacManus and Masius.
Ed had two degrees from Georgia State University. He has been happily married to his high school sweetheart for 39 years. They have one married son and one grandson who live in Atlanta.