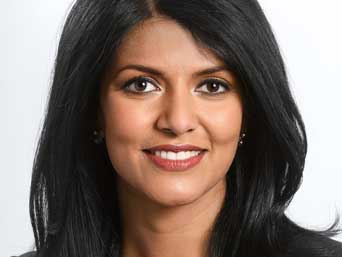 Duriya Farooqui
Executive Director, Atlanta Committee for Progress (ACP)
---
Duriya Farooqui is Executive Director of Atlanta Committee for Progress (ACP), a coalition of leading CEOs (including Coca-Cola, Delta, Home Depot, UPS, and Invesco), focused on the most critical issues for the City, in collaboration with the Mayor of Atlanta. She is also on the Board of Directors of the Intercontinental Exchange Inc. (NYSE: ICE).
Before joining ACP in 2016, Ms. Farooqui was a principal at Bain & Company, where she worked with corporate executives across industries to deliver high impact results. Her consulting work included customer analytics, pricing, divestitures, transformation and strategy. Ms. Farooqui also led a pro-bono engagement, to develop an outcome-focused growth strategy for a charter school network serving low-income children. Her experience spans the private and public sectors, including an early focus on international policy.
Prior to 2014, Ms. Farooqui served as Chief Operating Officer for the City of Atlanta. She managed all operating city departments, including public safety agencies and the airport, with a $2 billion budget and over 7,000 employees. Ms. Farooqui is credited with restructuring city operations, implementing pension reform and leading major public-private initiatives such as re-negotiating a lease with Delta Airlines for opening the international terminal at Hartsfield-Jackson Airport, and securing a 30-year agreement with the Atlanta Falcons for an NFL/MLS stadium opening in 2017. She joined the City of Atlanta in 2007 and served as a Director, Deputy COO and COO across six years of public service.
Ms. Farooqui holds an M.P.A. in International Development from the Kennedy School of Government at Harvard University, and a B.A. in Economics and Mathematics from Hampshire College. She has also worked with the Center for International Development at Harvard University, The World Bank, and the Center for Global Development.
Actively engaged in civic leadership, Ms. Farooqui is a Trustee of the Woodruff Arts Center, Trustee of Agnes Scott College (beginning 2017) and serves on the boards of Big Brothers Big Sisters of Metro Atlanta, Westside Future Fund and the International Women's Forum of Georgia.  She enjoys living in Atlanta's Candler Park area with her husband and two sons.