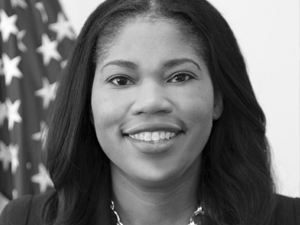 Denise Turner Roth
21st Administrator, U.S. General Services Administration
---
Denise Turner Roth assumed office on August 5, 2015 and is the 21st Senate-confirmed Administrator of the U.S. General Services Administration (GSA). Drawing on 18 years of public service, Roth continues GSA's efforts to deliver the best value in real estate, acquisition, and technology services to government and the American people.
Roth arrived at GSA in March 2014 as Deputy Administrator, providing overall organization management that helped improve performance throughout the agency. As Deputy, she worked at every level of GSA to support the mission and goals of the agency through the use of strategic and performance planning, measurement and analysis, and regular assessment of progress and performance data.
Roth's dedication to public service began on Capitol Hill in the office of Congressman Jim Moran. Later, she served as a special assistant for legislative affairs in the office of District of Columbia Mayor Anthony Williams and the public space manager for D.C.'s Department of Transportation, implementing and overseeing a $36 million revenue stream and managing public space access for major utility and telecommunication companies.
Before joining GSA, Roth served as the City Manager for the City of Greensboro, N.C., where her leadership helped pave the way for several new and creative management changes in the city, including the reorganization of city departments and divisions to promote efficiency and improve service delivery.
Roth also helped establish the district office of North Carolina Congressman Brad Miller and served as district liaison. In her capacity as Vice President for Governmental Affairs at the Greensboro Partnership, Roth successfully advocated for $60 million in state funds to establish the North Carolina A&T State and UNC Greensboro Joint School of Nanoscience and Nanoengineering.
During her career, she has received a variety of accolades, most recently being named one of D.C.'s "Top 50 Women in Tech" by FedScoop for her use of technology as a force multiplier to push government and industry to the next level. She also received the Young Alumni Achievement Award from the Bishop O'Connell High School in Arlington, Virginia for her significant accomplishments in her business life.
Denise Turner Roth received her Bachelor's Degree in Government and Politics from the George Mason University, which also awarded her an honorary doctorate in 2015. She is a graduate of the Public Executive Leadership Academy at the University of North Carolina at Chapel Hill.
Denise lives in the District of Columbia with her husband Chip Roth and their son.