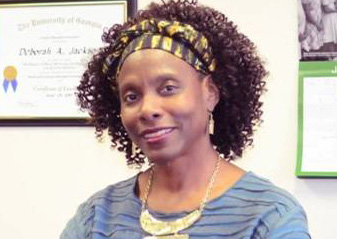 Deborah A. Jackson
Mayor, City of Lithonia
---
Deborah A. Jackson was sworn in as Mayor in January 2012 after serving the City in a number of positions. In 2002, she helped the City obtain a Livable Centers Initiative (LCI) study grant from the Atlanta Regional Commission for Lithonia. She was hired as the LCI Project Coordinator to represent the city during the planning process; and was instrumental in ensuring a high level of community participation. In 2006, she was appointed the city attorney. In a special election in March 2009, she was elected to the city council and re-elected for a full term in November 2009.
As a Council Member, she coordinated the work of the citizen-led Lithonia Redevelopment Committee to successfully update the City's comprehensive plan. She was also active in the effort to stop the building of a biomass gasification plant in the area and served as an advisor to the community group, Citizens for a Healthy and Safe Environment (CHASE). She was named in the 2014 Who's Who in Black Atlanta Section on Environmental & Sustainability.
Mayor Jackson's leadership as an elected official resulted in her appointment to the Legislative Policy Council, Federal Action Committee, and the Board of Directors of the Georgia Municipal Association (GMA); and the Community Resources Committee (CRC) (formerly the Environment and Land Use Committee) of the Atlanta Regional Commission (ARC). She is also a member of Subcommittee on Poverty. On the local level, Mayor Jackson served as President of the DeKalb Municipal Association. Mayor Jackson is a graduate of Leadership DeKalb (2011) and the ARC's Regional Leadership Institute (2013).
In addition to being an elected official, Mayor Jackson has over 30 years of experience as an attorney. Her areas of practice include contracts, business, municipal, and community development law. She has practiced law in Georgia, New York, New Jersey, and Mississippi. Her current community activities include the DeKalb Lawyers Association Community and Education Fund, and the CrossRoadsNews Foundation. Mayor Jackson is also a member of the Arabia Mountain Heritage Area Alliance Board.
Dr. Jackson served as the Executive Director, of the National Conference of Black Lawyers, a national organization of lawyers, judges and law students, and developed programs and seminars, and coordinated international conferences and fact-finding delegations to investigate human rights conditions in different parts of the world. Her travels to countries in Europe, Asia, Latin America, Africa, and the Caribbean provides her with a broad appreciation for community development issues.
Mayor Jackson's educational accomplishments include a M. A. and a Ph.D. in Policy and Community Economic Development from Southern New Hampshire University; a J.D. from Rutgers The State University of New Jersey-School of Law; a M.A. in Political Science from Rutgers The State University of New Jersey-Graduate School; and A.B. in History from Princeton University.