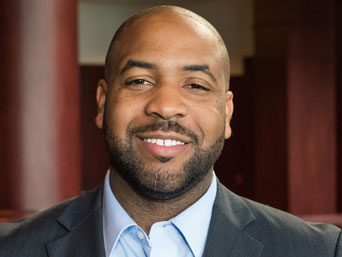 David R. McGhee
Program Director, The Skillman Foundation
---
David R. McGhee, program director, joined The Skillman Foundation in 2014. Prior to joining the Foundation, David served as a program director for Big Brothers Big Sisters and as a congressional liaison for U.S. Representative Dan Kildee, who represents Michigan's 5th Congressional District.
David's work with youth and communities and role as a thought-leader has been recognized across the state and beyond. He was featured in the September 2012 issue of Black Enterprise Magazine and contributed to the National Urban League's 2013 State of Black America Report. His essay Mentoring Matters: Why Young Professionals and Others Must Mentor, was published alongside contributors such as Marc H. Morial, Eric H. Holder, Jr., Congressman John Lewis, Rev. Al Sharpton, and many others. In 2016, he was selected as a Next City Vanguard, joining a group of 45 top urban innovators making equitable change, and was also selected to take part in the 2016 American Express Leadership Academy Alumni Summit, a gathering of the nation's emerging nonprofit and philanthropic leaders.
David received his bachelor's degree in public administration & public policy from Oakland University and a master's degree in leadership from Central Michigan University.