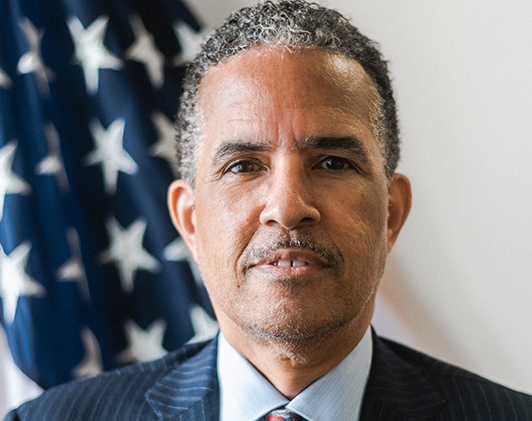 David J. Bryd
National Director, Minority Business Development Agency (MBDA)
---
David J. Byrd was appointed as the National Director of the U.S. Department of Commerce, Minority Business Development Agency (MBDA) on June 15, 2020. Mr. Byrd is the 18th National Director of the agency. In his role he oversees the development and implementation of Agency initiatives, policy agenda, and federal grant programs.
Mr. Byrd joined MBDA as the National Deputy Director in October 2019 after serving as the Deputy Assistant Secretary, Office of Policy Development, at the U.S. Department of Housing and Urban Development (HUD). Prior to accepting the fourth presidential appointment of his career at MBDA, Mr. Byrd worked on President Trump's Transition Team as a "talent scout" for executive appointments and on the HUD Agency Action Team, organizing the blueprint for HUD policy and personnel infrastructure.
His more than 28 years of dedicated public service at the county, state, and federal levels, has included executive level positions in government operations, administration, and economic development. He has served as Deputy Chief Administrative Officer for Prince George's County, MD; Chief of Staff to the Lieutenant Governor of Maryland; and Associate Commissioner for External Affairs at the Social Security Administration.
Before his various leadership positions in the federal government and the state of Maryland, Mr. Byrd spent seven years in New Jersey state government focusing primarily on economic development. As the Director of the Office of Small Business, Mr. Byrd achieved a historic milestone working with state procurement officers to surpass the $1 billion mark in small business contracting. Additionally, he led trade missions to South Africa, Namibia, and Ethiopia securing more than $400 million in contract awards for New Jersey businesses.
Mr. Byrd is also an experienced entrepreneur and certified life coach. In 2003, he founded Byrd's Eye, LLC, a consulting firm that offered government relations, political consulting, executive and life skills coaching services to a wide variety of clients. Mr. Byrd used his skills as a life coach to work with homeless families and individuals and incarcerated youth in the Washington, DC metropolitan area.
Throughout his career, Mr. Byrd has received designations, awards, and accolades and is proud to say that public service is a "Byrd family tradition".
Mr. Byrd was born in East Orange, NJ, and grew up in Jackson Township, NJ. He completed his bachelor's degree in English at Ohio Wesleyan University and completed his master's degree in corporate public relations at Rowan University (formerly known as Glassboro State College).
He currently resides in Maryland with his wife, Jacquie.