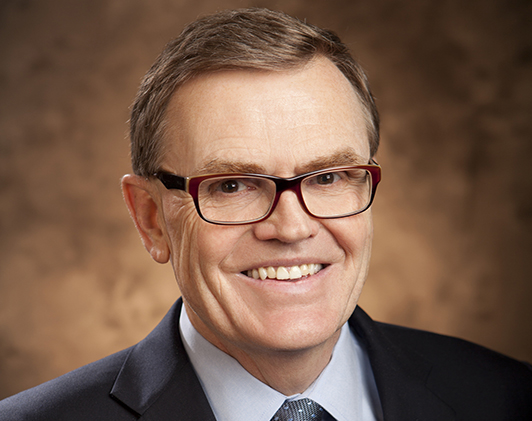 David Abney
Chairman and CEO, UPS
---
David Abney, who began his career as a part-time package loader while in college, serves as Chief Executive Officer and Chairman of the Board of UPS. David was appointed CEO in 2014 and as Chairman in 2016.
David previously served as Chief Operating Officer since 2007, overseeing logistics, sustainability, engineering and all facets of the UPS transportation network. UPS's global transportation network serves more than 220 countries and territories, and includes a ground fleet of almost 119,000 vehicles and an air fleet of more than 500 aircraft. UPS operates major air hubs in Louisville, Kentucky; Cologne, Germany; and Shenzhen, China.
Before serving as COO, David was President of UPS International, leading the Company's strategic initiative to increase its global logistics capabilities. During his career, David was also involved in a number of global acquisitions that included the Fritz Companies, Stolica, Lynx Express, and Sino-Trans in China.
Earlier in his career, he served as President of SonicAir, a same-day delivery service that signaled UPS's move into the service parts logistics sector. David began his UPS career in 1974 in a small facility in Greenwood, Mississippi, while attending Delta State University.
In addition to his corporate responsibilities, David serves as a Trustee of The UPS Foundation, a Trustee of the Annie E. Casey Foundation, and is a member of the World Affairs Council of Atlanta as well as the Business Roundtable.
David joined the UPS Board of Directors in 2014, and as Chairman and Chief Executive Officer, he serves as the Chairperson of the Executive Committee.
The Metro Atlanta Chamber of Commerce elected David as its 2019 Chairman. He also serves as a board member for Macy's, Inc. and Catalyst, working to accelerate and advance women, including women of color, into senior leadership and board positions. In 2018, David was inducted as a member of the Horatio Alger Association of Distinguished Americans, a non-profit educational organization honoring the achievements of outstanding individuals and encouraging youth to pursue their dreams through higher education.
In conjunction with being named to Atlanta's Most Admired CEOs of 2018, he was the recipient of the 2018 Lifetime Achievement award by the Atlanta Business Chronicle.
A native of Greenwood, Mississippi, David earned a bachelor's degree in business administration from Delta State University, where he and his wife, Sherry, sponsor the school's annual symposium on international business.