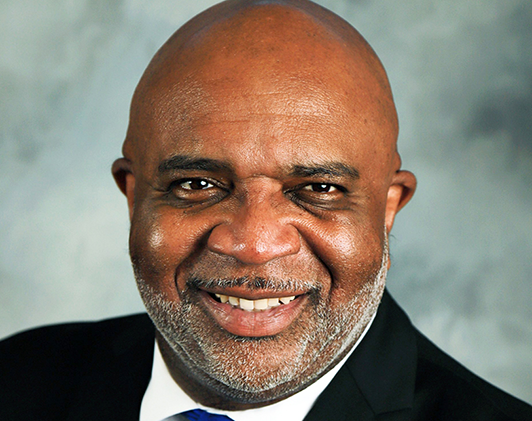 Daryl A. Anderson
International Executive Director, Phi Beta Sigma
---
Daryl A. Anderson, Sr. is currently the International Executive Director of Phi Beta Sigma Fraternity, Inc.  He is originally from Memphis, TN, and attended public elementary, middle, and high schools.  He obtained his bachelor's degree (Microbiology) and master's degree (Business Administration with a Marketing concentration) at Memphis State University.  He was commissioned as 2nd Lt. in the United States Air Force and received training as a navigator at Mather Air Force Base in CA.
After completing his service requirement, Daryl returned to Memphis and started a long history as a healthcare administrator.  His specific career focus was in the area of behavioral health and substance abuse care.  Daryl has worked with populations starting at the age of 2 through those categorized as geriatrics.  After several years as a Senior Healthcare Administrator, Daryl was elevated to the CEO level and successfully managed his own facility for over six years. 
Daryl moved on to work with the HIV/AIDS populations through the grant-based Ryan White program (HRSA) with the  Memphis/Shelby County Health Department. Concurrently, Daryl was employed as a Lead Faculty/Area Chairman for Healthcare Services with the University of Phoenix. While serving in that position, he received distinction as Faculty Member of the Year.  He is also a graduate of Leadership Memphis training, the premier community leadership organization in the city. 
Daryl is an ordained Associate Minister with Oak Grove Missionary Baptist Church in Memphis, TN.  He has two children, one daughter and one son (also a member of Phi Beta Sigma Fraternity).  He has worked on TN state boards, including the Mental Health Association of TN and the West TN Alliance for Children and Families.  He has worked with the State of TN in foster care services for Goodwill Homes Community Services, Inc.  He has worked with the Bureau of Prisons (through Dismas Charities) to train incarcerated men and women in the area of community reintegration and personal finance. Daryl has served on the Board of Directors for the March of Dimes in Northern VA.
Daryl continues to work in Washington DC as the International Executive Director of Phi Beta Sigma Fraternity and attends Morgan State University in Baltimore, MD.  He is completing studies for a doctorate degree (DrPH) in Public Health.  His area of focus is policy and management.