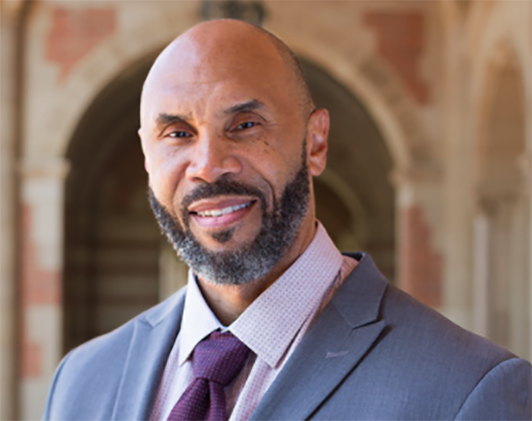 Darnell Hunt
Dean of the Division of Social Sciences and Professor of Sociology and African American Studies, University of California (UCLA)
---
Darnell Hunt is Dean of the Division of Social Sciences and Professor of Sociology and African American Studies at the University of California, Los Angeles (UCLA). Dr. Hunt has written extensively on race and media, including four books and numerous scholarly journal articles and popular magazine articles. Prior to his positions at UCLA, he chaired the Department of Sociology at the University of Southern California (USC).
For more than two decades, Dr. Hunt has worked on numerous projects exploring the issues of access and diversity in the Hollywood industry. He was lead author of UCLA's 2014, 2015, 2016, 2017, 2018, 2019 and 2020 Hollywood Diversity Reports, which provide comprehensive analyses of the employment of women and minorities in front of and behind the camera in film and television. He authored the last six installments of the Hollywood Writers Report, released by the Writers Guild of America (WGA) in 2005, 2007, 2009, 2012, 2014 and 2016. He was principal investigator of The African American Television Report, released by the Screen Actors Guild (SAG) in June of 2000. He has also worked in the media and as a media researcher for the
U.S. Commission on Civil Rights' 1993 hearings on diversity in Hollywood. Recently, he has worked as a consultant on film and television projects focusing on sensitive portrayals of race, ethnicity and other social issues.
Dr. Hunt has also been a frequent public commentator on questions of media and race. He has been interviewed for hundreds of television and radio programs on the topic, and the findings of his research studies have been reported in thousands of print, radio, broadcast, and on-line media outlets throughout the United States and abroad. He has also participated in and moderated dozens of panel discussions about media diversity sponsored by entities such as the Federal Communications Commission, the United Nations, the Congressional Black Caucus, and numerous colleges and universities. He was listed among Ebony magazine's "Power 150 Academia" for 2009-2010.