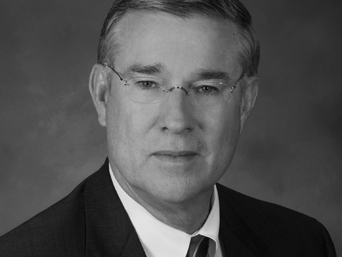 Daniel Mahurin
President and Chief Executive Officer, Gulf Coast and North Florida Division,
SunTrust Bank, Inc.
---
Born in 1949 in Evansville, Indiana, Mr. Mahurin moved to Orlando in 1956. He graduated from the University of Central Florida in 1971 with a BA in Communications, and attended the American Banking Association Commercial Lending School.
His banking career started with Sun Bank, NA of Orlando (now SunTrust Bank, Central Florida) part-time during school at UCF as a coin roller and teller. Upon graduation, he completed his active duty in the Marine Corps Reserve and rejoined Sun Bank full-time in an audit training program. From 1972 to 1998, he held various positions and progressed to executive vice president of the community banking division with responsibility for a network of 57 branches, residential real estate, private banking, consumer banking, and Latin banking. In March 1998, Mr. Mahurin was elected President and Chief Operating Officer of SunTrust Bank, Tampa Bay, and on January 1, 2000, he was named Chairman, President & CEO of the Tampa Bay region. As of April 1, 2010, Mr. Mahurin was named President and CEO, SunTrust Bank, Gulf Coast/North Florida Division.
Mr. Mahurin's past community involvement has included serving as Chair of the Tampa Bay Partnership, the Tampa Housing Authority, the Greater Tampa Chamber of Commerce Public Policy Committee, the Central Florida YMCA, and the Orlando/Orange County Convention and Visitors Bureau. He has served as Treasurer/Secretary of the Tampa Bay Convention & Visitors Bureau, Vice Chairman and Trustee of the University of Central Florida Foundation, Commissioner of the Orlando Housing Authority, and as a member of the Board of Governors.
– See more at: https://www.operationhope.org/hopeboardmember/sgc/1/c/6303#sthash.g2YbCSzn.dpuf