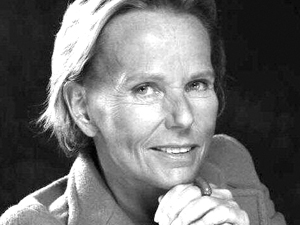 Christine Ockrent
Journalist, France Culture
---
Christine Ockrent has had a groundbreaking career in television, as a producer of documentaries, an interviewer, a commentator, and as the first female news anchor in France. For the past nine years she was producer and anchor of the weekly current affairs program France Europe Express on France 3 Télévision, and she continues a weekly editorial on France 24. Ockrent began her career in broadcast journalism at the NBC News Paris bureau as a researcher, and then worked for eight years at CBS News's 60 Minutes, in their London office, giving her an extensive knowledge of the ways of American television news. But she made her mark back in France. In 1981, after the Socialist electoral victory of François Mitterrand resulted in the mass exodus of many veteran journalists from the two government-run stations, Ockrent took advantage of the opportunity to become one of the new faces on French television. She became the anchor of the seven-days-a-week, 8 p.m. newscast, alternating weekly with Bernard Rapp. In early 1983, Ockrent became the sole anchor and executive producer of the broadcast. In 1984 Frank J. Prial wrote in the New York Times that Ockrent "is proud of her success with what had been considered a conservative audience. 'There's no credibility gap,' she said, consciously or unconsciously addressing a managerial fear that has held back women news broadcasters in the United States. 'It shows that something is happening in this society when women can get accepted in this kind of responsibility.'"
Christine Ockrent was born in Brussels, where her father was a diplomat with the Organization for Economic Development and Cooperation. She grew up in Paris, and graduated from the Institut D'Etudes Politique. She continued her studies at Cambridge University in Great Britain, and then worked as a journalist for the European Union Information Bureau (Bureau d'information des Communautes économiques européennes) in Paris. In 1967, she joined the NBC News Paris bureau as a researcher. The next year Ockrent joined CBS News as an assistant producer. She became an associate producer on 60 Minutes, based in the London bureau. She then served as European correspondent for the short-lived, People magazine-inspired Who's Who on CBS in 1977, after which she worked in radio and television in various capacities in Paris. In 1977, she became a freelance producer for ABC News's 20/20, as well as a producer for France's FR3. From 1980 to 1981, Ockrent served as the anchor and editor of the morning news on Europe 1 radio.
Then, in 1981, Ockrent became the first French female evening news anchor and editor in chief, for the Antenne 2 TV network. She caused quite a stir in assuming this position, becoming a closely watched and much-examined celebrity in France. Wrote Prial: "Just what Miss Ockrent does on camera that others do not is not easy to determine. She has been characterized as 'authoritative' and 'aggressive,' but she is not measurably more so than her male colleagues and competitors. Some television writers believe that she is popular because she is very competent, which is not unusual, and a very attractive woman, which is—at least on a major news program."
Ockrent also addressed the excitement, apprehension and uncertainty that accompanied her entry into this high-profile position. Wrote Prial: "She is both attracted and irritated by being France's foremost woman news anchor. 'With a woman, everyone is concerned with what she wears, how she looks,' she said. 'With a man, at least in this country, it doesn't matter. For me, having to go to the hairdresser three times a week is a real pain in the neck.'" On a lighter note, Prial continued: "She wears the same clothes on the air that she has worn through the day. 'I have to be careful not to get spots when I eat,' she said."
Responding to a profile in the Times of London that accused her of being a "tough character" and "an ice cube," Ockrent responded, "I felt…that I was doing a serious job, and therefore I didn't have to smile talking about war, for instance. The stereotypes are such that a woman who doesn't smile—that's terrible, it means she's abnormal. I kept not smiling because I didn't feel like smiling and talking about wars. I think that's what gave me the reputation of being 'an ice cube', and I was just being serious about my job. That was 20 years ago!"
Ockrent has had to weather other controversies as well. While in the early stages of her career as an anchor and executive producer her annual salary was quite modest in comparison to her American counterparts, by the late eighties the revelation of Ockrent's considerable salary at Antenne 2 prompted a strike by that network's employees in protest. Her marriage to politician, physician, and humanitarian Bernard Kouchner (who cofounded Doctors without Borders) recently led to some controversy. Agence France-Presse reported on May 23, 2007, that Ockrent, "who is married to Bernard Kouchner, a prominent left-winger named foreign minister in Nicolas Sarkozy's right-wing government…would continue presenting the weekly programme France Europe Expressuntil the summer, after which she would launch a new show 'with a different orientation.'" When the new political talk show, Duel on Three (Duel sur la 3) was announced, with Ockrent as anchor and editor in chief, the National Journalists Union (SNJ) questioned its credibility because of Ockrent's connection to the foreign minister. "'What will happen when the news is something like France's relations with Libya?' the SNJ said in a statement," according to a report by Agence France-Presse. Ockrent responded that this criticism was "sexist, misogynist and perfectly insulting." She continued, "One would never ask a male journalist what his ties were with this or that woman politician…In whose name is a woman supposed to sacrifice her professional career on behalf of her husband's?"
Never one to shy away from controversy or to give in to her critics, Ockrent continues with Duel sur la 3 on France 3. She also serves at this time as a commentator on France 24 TV, Europe 1 radio, and as a columnist in several magazines in France. Ockrent is often called upon to be a commentator on other programs as well because of her experience and expertise in national and international affairs. She has been decorated with both the Chevalier de la Légion d'honneur and Officier de l'Ordre National de Mérite. She is the recipient of the 7 d'or du meilleur présentateur du journal télévisé (1985), the Super 7 d'or (1985), the prix Stratégies (1985), and the prix Tézenas du Montcel (1998).
Ockrent serves on several boards, including those of the French Council on Foreign Relations (IFRI), the International Crisis Group (ICG), the Center for European Reform, Human Rights Watch France and Reporters Sans Frontières. She has been on the board of directors of METRO International since 2002. Ockrent is the author of twelve books, on both European topics as well as American subjects, including one on Hillary Clinton and another that examines the Kerry-Bush 2004 presidential race.