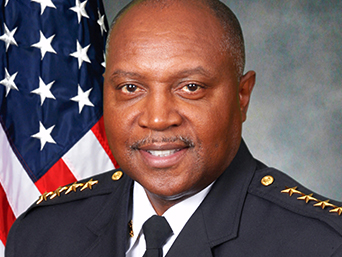 Chief George N. Turner
Former Chief, Atlanta Police Department
---
With more than 35 years of law enforcement experience, George N. Turner is one of the most sought after subject-matter experts in the fields of law and order, physical/corporate security, executive leadership/management and emergency response.
As a loyal public safety professional he led the operations of the largest law enforcement agency in Georgia. In 2010, Turner was appointed the Chief of Police for the City of Atlanta. After respectfully serving, he passed the baton and retired from the Atlanta Police Department on December 2016.
Chief Turner has been integral in the paradigm shift of the policing profession. Under his leadership, the Atlanta Police Department targeted gang violence, alleviated aggressive panhandling, and enhanced police officer recruitment efforts. Atlanta's crime rate dropped to a 40-year low with a 27-percent reduction in crime. In 2015, the Homicide Unit had an 84-percent clear-up rate. Additionally, Chief Turner understood the importance of combining new age technology and old-fashioned police work to fight and solve crimes; deploying the latest technological advancements as part of the Department's crime-fighting strategies including video surveillance and predictive policing.
Chief Turner has received numerous commendations from the Secret Service and the Federal Bureau of Investigation for his work on protective details with the various Presidents, high-level officials and heads of state. He has worked closely with the State of Georgia and other local law enforcement on a wide array of special assignments and details.
Born and raised in Atlanta, Chief Turner was educated in the Atlanta Public Schools and attended Clark Atlanta University. He holds a Bachelors of Art degree from Saint Leo University in Criminal Justice and a Master's in Public Administration from Columbus State University. He completed the United States Secret Service Academy Small Detail Training, Police Executive Research Forum (Senior Management Institute), and Georgia Association of Chiefs of Police Command College.
He has been married to Cathy Turner for 35 years and they are the parents of four adult children and seven grandchildren.