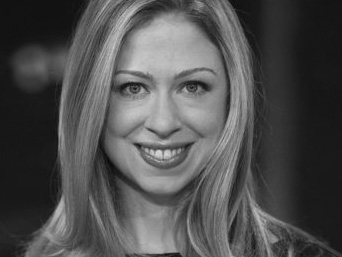 Chelsea Clinton
Vice Chair, The Clinton Foundation
Author, "It's Your World"
---
Chelsea Clinton, Vice Chair of the Clinton Foundation, works to drive the vision and programmatic work of the Bill, Hillary & Chelsea Clinton Foundation. Over the past 14 years, The Clinton Foundation has convened businesses, governments, NGOs, and individuals to improve global health and wellness, increase opportunity for girls and women, reduce childhood obesity, create economic opportunity and growth, and help communities address the effects of climate change. As only a few examples, because of the Clinton Foundation's work, more than 29,000 American schools are providing kids with healthy food choices in an effort to eradicate childhood obesity; more than 85,000 farmers in Malawi, Rwanda, and Tanzania are benefiting from climate-smart agronomic training, higher yields, and increased market access; over 350,000 people have been impacted through market opportunities created by social enterprises in Latin America, the Caribbean, and South Asia; 75 million people are benefiting from disease prevention efforts and investments in the U.S.; and through the affiliated Clinton Health Access Initiative, 9.9 million people in more than 70 countries have access to CHAI-negotiated prices for HIV/AIDS medications.
As Vice Chair of the Foundation, Chelsea is a tireless advocate for the work of the Foundation. She works alongside Foundation leadership toward a shared goal of making the Clinton Foundation one of the most effective and efficient global NGOs in the world. She works in-depth across a number of the Foundation's programmatic areas including: No Ceilings: The Full Participation Project working to advance the full participation of women and girls; the Clinton Global Initiative University, a program focused on empowering the next generation of change-makers; the Clinton Foundation's Day of Action program which she founded; the Foundation's various health programs and the conservation of Africa's Elephants through the Clinton Global Initiative.
Chelsea currently teaches at Columbia University's Mailman School of Public Health and previously worked at McKinsey & Company and Avenue Capital. Chelsea also serves on the boards of the Clinton Foundation's affiliated Clinton Health Access Initiative, the School of American Ballet, the Africa Center and the Weill Cornell Medical College. She is the Co-Chair of the Advisory Board of the Of Many Institute at NYU. Chelsea holds a B.A. from Stanford, an MPH from Columbia's Mailman School of Public Health and both an MPhil and a Doctorate in International Relations from Oxford University. Chelsea is the author of It's Your World: Get Informed, Get Inspired & Get Going, a book for young readers ages 10-14 which explores some of the biggest challenges facing our world today, particularly impacting kids and shares inspiring stories of young people who are already making a difference in their own communities and around the globe.
She lives with her husband Marc and their daughter Charlotte in New York City.