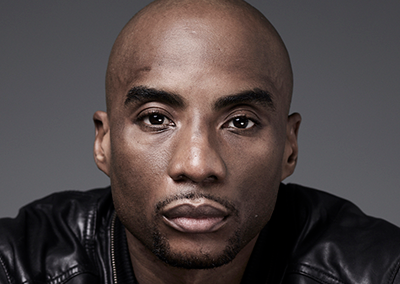 Charlamagne Tha God
Co-Host, The Breakfast Club
---
Growing up "Lenard McKelvey" in the small town of Moncks Corner, South Carolina, "Charlamagne Tha God" was once just another kid dreaming of a better life, yet inevitably falling prey to the dangerously glamorized street life. By the time he was 18, the precocious teen, who was no stranger to a few good books by way of his mother, a school teacher, slowed down his rebellious ways and stumbled upon his love for radio during an internship in his town. In just a few years, Charlamagne would be recognized as one of the best voices in South Carolina by the late 90s.
While on the air in Columbia, S.C., Charlamagne drew attention to the local show he hosted on Hot103.9 (WHXT-FM) by distributing his controversial interviews and skits online. His irreverent, "shock jock" interview style, inspired by the likes of everyone from Larry King to Bill O'Reilly to Arsenio Hall, got the attention of then radio personality Wendy Williams, who would quickly take Charlamagne under her wing as an apprentice.
Williams would rebroadcast Charlamagne's interviews on her popular, syndicated radio show, The Wendy Williams Experience. He later joined the program as co-host. Working alongside Williams not only introduced Charlamagne to a new audience, but it also helped strengthen the voice that has defined his career – a voice he now uses to reach audiences in all mediums – from syndicated radio, to television, to print, to digital and new-media.
Presently, Charlamagne is the host and star of MTV2's popular late-night talk show Uncommon Sense with Charlamagne, which evolved from 2014's Charlamagne and Friends. He is also a part of the lead cast in MTV2's Guy Code and Guy Court, a spin-off of the former.
In addition, Charlamagne currently hosts a widely-acclaimed podcast entitled Brilliant Idiots, alongside MTV's Andrew Schultz, where the duo discusses their reaction to both world and pop culture news. Currently, Brilliant Idiots is streamed and downloaded by hundreds of thousands of listeners and fans per episode. The success the show has garnered has opened doors for a "Brilliant" tour, in which Charlamagne and Shultz can be found in different cities around the world, on stage, for a live taping.
As for Charlamagne's first love, radio, the personality currently stars in the hugely popular morning radio show, The Breakfast Club, which is syndicated by Premiere Networks on nearly 100 stations across the nation. Charlamagne hosts The Breakfast Club, a.k.a. "The World's Most Dangerous Morning Show," out of Power 105 in New York City alongside DJ Envy and Angela Yee, and it is widely regarded as the most informative and entertaining top-rated Hip Hop and R&B morning show today, dominating both the airwaves and Revolt TV, a music cable network from Sean Combs which simulcasts the program.  
Each morning between the hours of 6 and 10 a.m., fans of The Breakfast Club tune in to hear the trio's unrivaled interviews and conversations with celebrities and hip-hop artists, entertainment news, fresh music mixes, along with their signature blend of honesty and humor. It can also be streamed via iHeartRadio.com and the iHeartRadio mobile app. Fans also have access to Weekends with the Breakfast Club, which features the 20 hottest songs on the charts alongside DJ Envy, Angela Yee and Charlamagne's signature interviews with megastars and hip-hop icons. The program currently airs on more than 100 stations nationwide.
When he's not on the radio or television studio, Charlamagne – the "Prince of Pissing People Off," the "Ruler of Rubbing You The Wrong Way," and the "Architect of Aggravation," – is still himself, minus the mic. However, this is not to be confused with an inability to remain a humble and hardworking man both in and out of the industry.
In April 2017, "hip-hop's Howard Stern" (Rolling Stone) shared his unlikely success story in his first book: Black Privilege: Opportunity Comes to Those Who Create It. Published by Touchstone, an imprint of Simon & Shuster Inc., Black Privilege features Charlamagne's comic, often controversial, and always brutally honest insights on how living an authentic life is the quickest path to success. The New York Times Best-selling Author released his second book in October 2018, Shook One: Anxiety Playing Tricks on Me. In the book, Charlamagne shares his blueprint for breaking free from fear and anxiety. 
Charlamagne may be widely and worldly acclaimed these days, but the family fan is still a southern and hospitable charmer from a small town in South Carolina. And so long as he is breathing, he will never forget where is from, and that he beat the odds to become: Charlamagne Tha God.