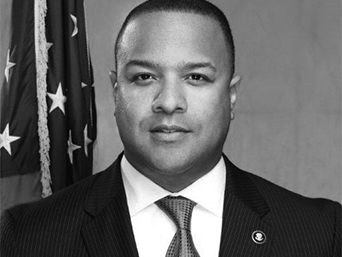 Cassius Butts
Regional Administrator- Region IV, Small Business Administration
---
Cassius Butts was appointed by President Barack Obama in 2011. He is responsible for the delivery of SBA programs in Alabama, Florida, Georgia, Kentucky, Mississippi, North Carolina, South Carolina, and Tennessee. During his appointment, Cassius has managed oversight of three record breaking years for SBA lending in Region IV. Nearly $12 billion in SBA-backed loans were awarded to small businesses within the aforementioned eight states.
Prior to joining SBA, Cassius was employed with the U. S. Department of Housing and Urban Development (HUD) where he began his federal career as a Presidential Management Fellow/Branch Chief in 2002.  It was at HUD where he assisted and advised the scoring committee on the newly established Multi-Million Procurement Contract. Since 1992, Cassius has worked in leadership positions for Bank of America, Fleet Bank and the City of Atlanta.  As a small business owner, he co-founded CB Consulting Group, LLC, which primarily offered entrepreneurial, strategy and community engagement services.
He continues to write as a guest op-ed columnist, lecturer and has co-authored over 50 business and entrepreneurship related columns. Cassius has also been featured on NPR, CNN as well as ESPN.  He has received many awards and recognitions including a U.S. House of Representative Proclamation for his achievements. An advocate for mutual partnerships; he has assisted to forge over 100 strategic alliances with business chambers, associations and foundations.  In 2013, he was appointed to the National Partnership Council.  Cassius is a graduate of Morehouse College, Clark Atlanta University's School of Public Administration and obtained his Certificate of Grant Writing from Emory University's Life Learning Institute. He is also a 2012 graduate of Leadership Atlanta.