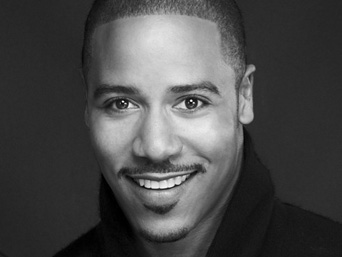 Brain White
Actor & Co Founder, Black Carpenter
---
Actor and Co-Founder, Black CarpenterBrian White is in for a busy year – as he stars in three upcoming films and a hit tv series.  White is currently in production in Atlanta on Tyler Perry's upcoming new romantic drama "Good Deeds" (Lionsgate).   Perry stars as Glen Deeds, an affluent and successful entrepreneur about to get married when he suddenly becomes enamored by a down-on-her-luck single mother (Thandie Newton) who rekindles a spark that seems to have faded with his uptown fiancée (Gabrielle Union).  White stars as Perry's brother, Walter Deeds.  "Good Deeds" also stars Phylicia Rashad, Rebecca Romijn, Eddie Cibrian and Jamie Kennedy.
White also reprises the popular role of Marcus when the TNT hit Emmy-award nominated drama series "Men of A Certain Age" returns with all new episodes to complete it's second season this June."Men of A Certain Age"stars Ray Romano, Andre Braugher and Scott Bakula as three best friends in their late forties dealing with the realities of middle age. White is almost a nemesis to Braugher's character Owen as Marcus constantly outshines him at the car lot where they are both salesmen.  Owen's father, the owner of the lot, considers Marcus the "son he wished he had."
Later this year, White stars opposite Academy-award nominee Richard Jenkins and Emmy-award winner Bradley Whitford in the Joss Whedon/Drew Goddard horror film "The Cabin in the Woods" and will also star in the upcoming Bollywood romantic comedy film "Politics of Love" opposite Mallika Sherawat, Loretta Devine, and Ruby Dee. "Politics of Love" is a romantic comedy that follows the fortunes of a campaign team caught up in a whirlwind of euphoric romances during Obama's presidential push.
White has showcased his talent with a multitude of characters in different genres of film:  in 2009, White starred in Tyler Perry's "I Can Do Bad All by Myself" (Lionsgate) opposite Taraji P. Henson. He also appeared opposite Channing Tatu and Terrance Howard in "Fighting" (Rogue Pictures) and alongside World Wrestling Entertainment superstar John Cena in the film "12 Rounds" (Fox Atomic ). In 2008, he starred alongside Jason Statham in the fantasy-adventure epic "In the Name of the King: A Dungeon Siege Tale" (Fox International). White also starred in the musical-drama "Stomp the Yard" (Screen Gems) and opposite Dwayne "The Rock" Johnson in Disney's box office hit "The Game Plan." Other notable film credits include the box office hit "The Family Stone" (Fox 2000) and Independent Spirit Award-nominated film "Brick" (Focus Features/Universal).
A Boston native and son of a licensed financial consultant mother and professional basketball player father (legend JoJo White of the Boston Celtics), White was instilled with the importance of both sports and education throughout his childhood.  He studied Political Science, Psychology and and Theater at Dartmouth College.
He continued to play football and lacrosse throughtout his college years and upon graduation was signed by both an NFL (New England Patriots) and NLL (Boston Blazers) team.  In 2000, due to an injury, White made the transition from professional athlete to investment broker.  Later on, a chance meeting with an entertainment executive led him to leave the world of finance to begin a new career in modeling and eventually acting.
White is most recognizable to television audiences as Detective Tavon Garris on the award-winning FX crime drama "The Shield." Other television credits include CBS' "Moonlight," UPN's "Moesha," "The Parkers," and "Second Time Around" as well as MTV' "Spyder Games."
He recently returned from touring the United States in David E. Talbert's stage show "What My Husband Doesn't Know" alongside Michelle Williams, Ann Nesby, Clifton Davis and Morris Chestnut.
He also has a philanthropic side to him and has co-founded a multitude of different ventures including: the Helping Hands Celebrity Weekend (HHCW) in St. Thomas, US VI which creates a unique arena where members of the entertainment industry, professional athletes and corporate leaders can unite and support one another's charitable efforts; Black Carpenter (www.BlackCarpenter.org) which is a multi-platform youth empowerment brand that includes a book, feature documentary and speaking tour designed to create a "tool box" that represents the essential life skills for building a successful next generation; a professional dance company/community youth outreach organization called Phunk Phenomenon Urban Dance Theatre. He is also a founding partner of a full-service film, television and broadband production company based in Los Angeles, CA.
He will celebrate his first wedding anniversary later this summer.