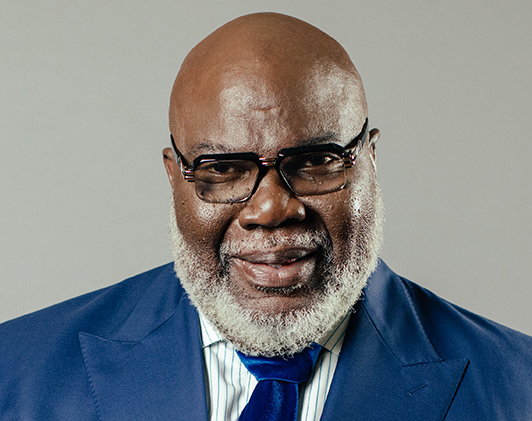 Bishop T.D. Jakes
Chief Executive Officer, TDJ Enterprises
---
T.D. Jakes is a master communicator, New York Times-bestselling author, filmmaker, Grammy® Award-winning music producer, social entrepreneur, business leader and pastor. He is the CEO of TDJ Enterprises, a company with successful businesses in real estate, motion pictures, television, publishing, licensing, and music.
Jakes has published more than 40 books, including the 2019 New York Times bestseller, "Crushing," which unveils the secrets to overcoming life's setbacks. His nine films have grossed more than $300 million, including 2019's "A Dog's Way Home" for Sony Pictures. Jakes is a thought leader who has commanded stages from the Aspen Institute to the Peter Drucker Institute at Claremont. He has shared the stage with leading corporate CEOs and Chairmen such as AT&T Chairman Randall Stephenson.
Jakes has been featured on the cover of several of the world's most influential news outlets, including Time Magazine and Ebony. He has appeared as a guest commentator on major networks such as CNN, MSNBC and the FOX News Channel. His bylined articles have appeared in The Washington Post, The Huffington Post, Newsweek, Inc., CNN.com and Bloomberg/BusinessWEEK.
Jakes is an award-winning humanitarian with ongoing initiatives locally, nationally, and around the globe in education, healthcare, criminal justice, economic empowerment as well as disaster preparedness, aid, and recovery.
Jakes is the senior pastor of The Potter's House Dallas, one of America's largest and best-known churches, with more than 30,000 members. Jakes is one of the world's most recognized and beloved spiritual leaders with more than 20 million online followers.
For more information visit www.tdjakes.com.