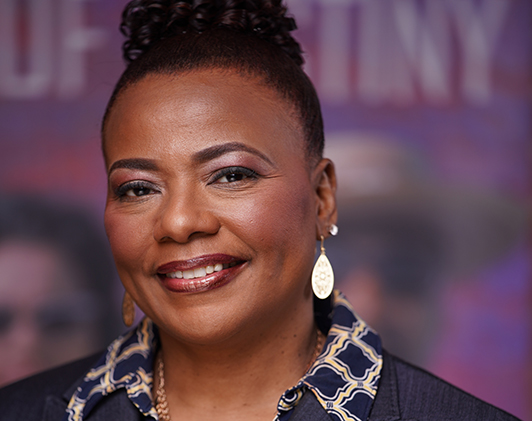 Bernice King
Chief Executive Officer, The King Center
---
"The pride and treasure of our nation is our youth. Any nation that
neglects the teaching and the upbringing of its youth is a nation on the decline"
-Bernice A. King
Dr. Bernice A. King is a global thought leader, orator, peace advocate, and Chief Executive Officer of the Martin Luther King, Jr. Center for Nonviolent Social Change (The King Center), which was founded by her mother, Coretta Scott King, in 1968.  She was appointed CEO of The King Center in January 2012, by the Board of Trustees. From this position, the same one once held by her mother, this transformative leader steadfastly continues her efforts to advance her parents' legacy of Kingian Nonviolence, which Dr. King re-branded Nonviolence365™️.
Through her work at The King Center, Dr. King educates youth and adults about the nonviolent principles modeled by her parents. In 2012, she implemented the Camp N.O.W. Leadership Academy which has engaged youth from New Mexico, South Carolina, Michigan, Alabama, and as far away as the Island of Cyprus. Because of the impact the camp, now called Camp NOW, had on their lives, youth from Cyprus returned two years in a row.
Dr. King is a graduate of Spelman College with a Bachelor of Arts in Psychology and of Emory University, with a Masters of Divinity and Doctorate of Law. She has also received an honorary Doctorate of Divinity degree from Wesley College. In honor of her mother, Coretta Scott King, she returned to her alma-mater, Spelman College, to announce the establishment of the Be A King® Scholarship. Dr. King is currently a member of the State Bar of Georgia and a trained mediator. She is also a member of the International Women's Forum and National Council of Negro Women.
Dr. King is an innovative, energetic and committed leader dedicated to taking her parents' legacy and teachings, The King Center, and the work of creating a more peaceful, just, humane world with Nonviolence365 into a new era.