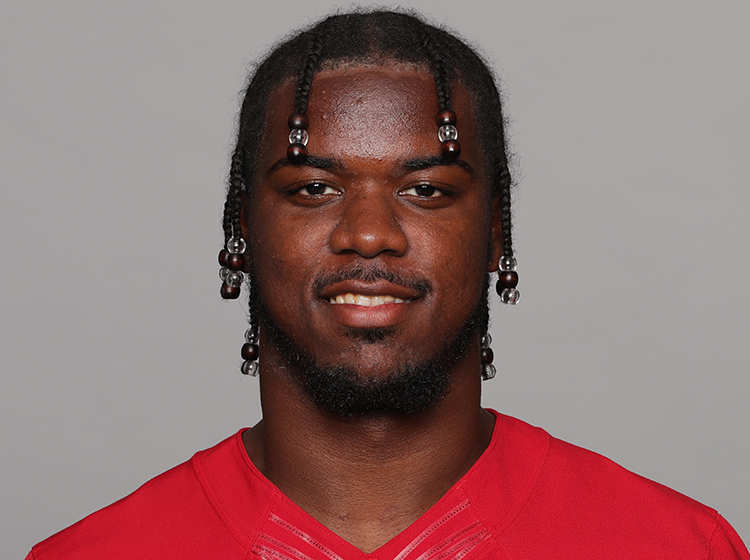 Azeez Al-Shaair
Football Linebacker, San Francisco 49ers
---
Azeez Al-Shaair is in his second year with San Francisco after originally signing with the team as an undrafted rookie free agent in 2019. Over the past two seasons, he has appeared in 20 games (five starts) and registered 17 tackles, one interception and one passed defensed while also notching nine special teams tackles.
A 23-year-old native of Tampa, FL, Al-Shaair grew up in a family of nine, with his mother, Naadhirah, supporting him and his seven siblings. One night in 2012, Al-Shaair awoke to the smell of smoke encompassing the house. He was able to wake up and lead the rest of his family to safety, as they watched the house burn down. The family moved from place to place before settling in a long-stay motel. Al-Shaair chose to sleep on the floor, as the family had to fit into one room. He trekked two hours by bus each day to attend school and football practice, often only eating once a day, making sure any leftover food went to his mom and siblings.
Al-Shaair attended Florida Atlantic University, where he was a four-year starter for the Owls. While he was at school in Boca Raton, FL, Al-Shaair was constantly worrying about whether his two younger brothers, Abdul-Lateef and Abdur-Rahmaan, were eating or getting into trouble. He decided to move his brothers into his Boca Raton apartment to serve as a role model and help instill the importance of a strong work ethic and positive decision making.
In 2018, Al-Shaair earned the Wilma Rudolph Student-Athlete Achievement Award presented by the National Association of Academic and Student-Athlete Development Professionals (N4A), which honors student-athletes who have overcome great personal, academic, and/or emotional odds to achieve academic success while participating in intercollegiate athletics.