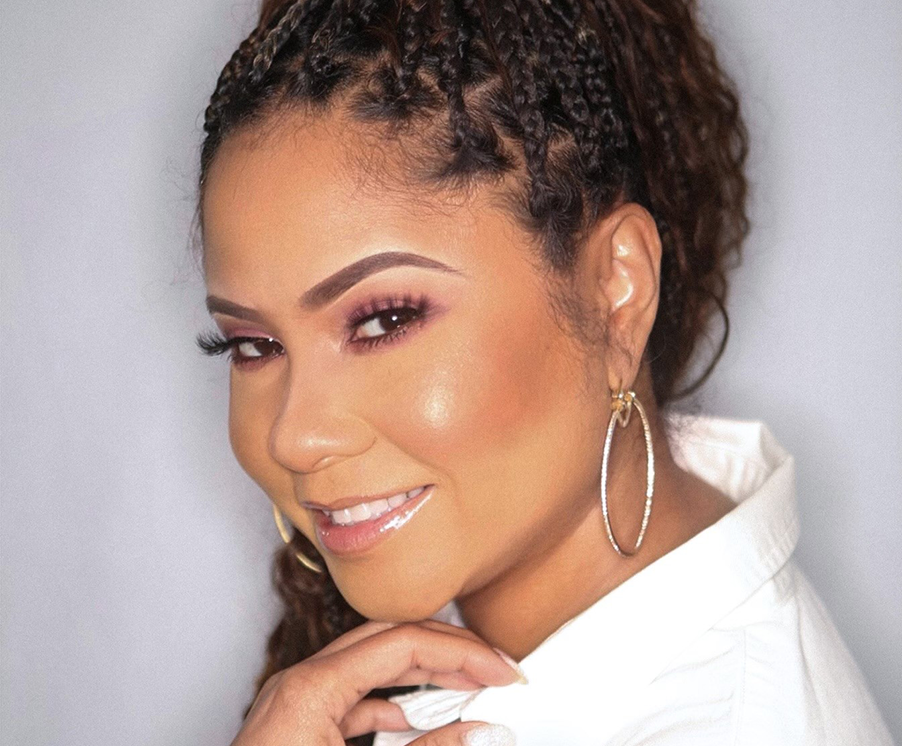 Angela Yee
Host, Way Up with Angela Yee
---
Variety Magazine describes Angela Yee as "one of the media's best-known multi-hyphenates." True to form, the award-winning media personality co-hosted the popular nationally syndicated radio show, The Breakfast Club for 12 years, hosts her own Lip Service podcast, just launched her own nationally syndicated radio show on IHeart Media, 'Way Up With Angela Yee,' owns several businesses, and is a philanthropist and community leader…And she's just getting started.
Born and raised in Brooklyn, New York, Angela was always extremely ambitious and studious. Her parents enrolled her in educational programs like Prep for Prep, instilling the value of education in her. Yee earned her BA in English from Wesleyan University, but also had valuable internships at MTV, TVT Records and Wu-Tang Management. Upon graduation, her first job was assistant to the CEO of Wu-Tang Corporation. Eventually transitioning to marketing for music legend Nile Rodgers' Sumthing Else distribution label and Eminem's clothing line Shady LTD, she also managed recording artists like GZA and Jay Electronica. "I was fortunate to work at companies associated with music icons throughout my career," Yee says.
Angela's early connection to Eminem led her to Sirius Satellite Radio, launching a successful radio career, first as co-host on Shade 45's Cipha Sounds Effect morning show followed by her own radio shows, Lip Service and The Morning After with Angela Yee. She quickly developed a name for herself as a burgeoning media star by interviewing top entertainers—Nicki Minaj, Chris Rock, 50 Cent, and more—and providing a platform for unsigned artists, like then- emerging Drake, Machine Gun Kelly, and Big Krit, with her segment 'Don't Quit Your Day Job.' Yee's talent and work ethic led to job offers from radio stations across the country. She took a risk and accepted a position at the underdog station in radio's number one market, New York City's Power 105.1.
Power 105's The Breakfast Club morning show was formed in December 2010 with Angela, DJ Envy, and Charlamagne.  The program became nationally syndicated in over 100 markets and avid listeners would anticipate "The Angela Yee Rumor Report,' 'Ask Yee,' and 'Front Page News' segments. The Breakfast Club's undeniable impact on the culture has garnered the trio several accolades culminating with the induction to the Radio Hall of Fame 2020 class.
This year, Angela bet on herself and left the success and security of The Breakfast Club to officially launched her own nationally syndicated daily radio show "Way Up with Angela Yee."  The show's intro is an upbeat vibe with listeners calling in to "Shine a Light on 'Em," acknowledging a person who has performed a positive act. Yee is already renowned for having the inside track on celebrity news and current events thereby branding her "YeeTEA" entertainment segments as well as her "Under the Radar" benchmark focusing on important news stories impacting our community that may have been overlooked. As a serial entrepreneur, Angela's weekly "Wealth Wednesday" will highlight stories and information on economic empowerment, ownership, building your brand, and investing. The "Tell Us A Secret" portion of the show gives listeners a safe space in a judgment free zone to confess real life scenarios they have never shared before. On the side of familiarity, Yee is also bringing her popular advice segment "Ask YEE" into the show daily.
Angela also expanded her media presence in 2014 by launching her podcast Angela Yee's Lip Service, where she and her girlfriends discuss intimacy, sex and relationships with the hottest stars in hip-hop, R&B, sports and TV and film. Previous guests include Lizzo, City Girls, Nick Cannon, Marlon Wayans, Chelsea Handler, Issa Rae and Cardi B. In 2019, Yee partnered with Live Nation on the nationwide Lip Service Live tour, was featured at the Roots Picnic and Strength of a Woman event, and earned an "Outstanding Podcast" Gracie Award. 
Transitioning to positions behind the scenes, Angela created and executive produced her own Facebook series, "Mastery of Comedy," which paired veteran comics Aida Rodriguez, Donnell Rawlings, Karlous Miller, and Roy Wood Jr. with up-and-coming comics for mentorship and exposure.  She also executive produced the VH1 docuseries "My True Scam Story" detailing how Jennifer Williams from Basketball Wives was scammed out of her Range Rover from an ex-boyfriend and giving his other victims a platform to tell their stories.
As her media persona continued to rise, Angela's entrepreneurial spirit kicked in and in 2016 she opened a juice bar, Juices For Life BK, in Bedford Stuyvesant, Brooklyn where she resides.  Her other ventures include a black-owned coffee company Coffee Uplifts People (C.U.P.) with a brick-and-mortar location in Bed Stuy and distribution at Target, Whole Foods, and in select restaurants and all Chelsea Piers Locations.  Yee has invested in Detroit with the launch of her own hair shop Private Label and the recent purchase of a 30-unit building in Midtown. Her real estate portfolio includes multiple investment properties in Brooklyn, Detroit, Miami, and a short-term luxury rental in the Catskills in Upstate NY. Angela has also been appointed to the Mayor's Small Business Advisory Commission to improve business services and programming in NYC.
Giving back to the community remains the core of all Angela's business endeavors. Her dedication to providing information and access to nutrition, financial literacy, education, and culture is reflected in her philanthropic associations. She's the first ever Global Ambassador for Diversity, Inclusion, and Community Engagement for Brooklyn Sports and Entertainment (BSE) and the New York Public Library. She sits on numerous boards including: American Foundation for the University of the West Indies (AFUWI), Nile Rodgers' We Are Family Foundation, the Fund for NYC Housing Authority, and The Shirley Chisholm Cultural Institute. Additionally, she has channeled her early love for reading into the Angela Yee Book Club literacy initiative to encourage her followers to read more and to support authors with unique stories to tell. In 2018, the New York City mayor officially designated August 28th as Angela Yee Day. Angela has her finger on the pulse of hip-hop, culture and business. She is indeed a multi- hyphenate in every sense, and her two-decade career has solidified her as this generation's renaissance woman.