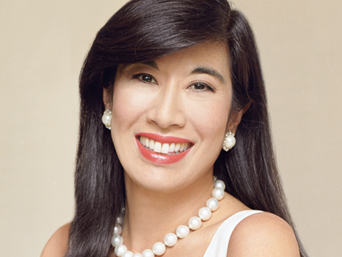 Andrea Jung
President and CEO, Grameen America
---
Andrea Jung is the President and CEO of Grameen America. Ms. Jung joined Grameen America with the goal of scaling the organization to solve economic issues for women and their families across the country.Founded by Nobel Peace Prize recipient Muhammad Yunus, Grameen America is a 501(c)(3) nonprofit microfinance organization dedicated to helping women who live in poverty build small businesses to create better lives for their families. The organization offers microloans, training and support to transform communities and fight poverty in the United States. Since opening in January 2008, Grameen America has invested nearly $320 million in more than 57,000 low-income women entrepreneurs. Started in Jackson Heights, Queens, Grameen America has expanded across New York City and in Indianapolis, IN, Omaha, NE, Oakland, CA, Charlotte, NC, Los Angeles, CA, San Jose, CA, Austin, TX, Union City, NJ, San Juan, PR and Boston, MA. Learn more at www.grameenamerica.org.
She is the former Chairman and Chief Executive Officer of Avon Products, Inc., where she served as CEO from 1999 through April 2012, and as Chairman from 2001 through December 2012. Throughout her professional career, Ms. Jung ranked consistently among the top leaders on lists including Fortune magazine's "Most Powerful Women in Business," Forbes magazine's "Most Powerful Women in the World," and Financial Times' "Top Women in World Business."
Ms. Jung is a graduate of Princeton University. She is a member of the Board of Directors of the General Electric Company, Apple, Inc., and Daimler AG. She also serves on the Committee for Economic Development, an independent, nonprofit, nonpartisan American think tank.