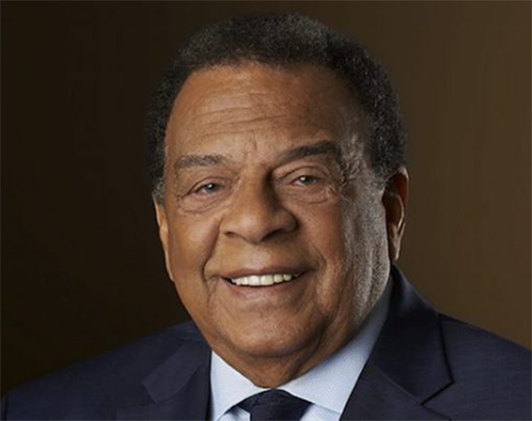 Ambassador Andrew Young
Civil Rights Icon and Chairman, Andrew Young Foundation, Annual Meeting Co-Chair
---
Ambassador Andrew Young is Chair of the Andrew J. Young Foundation. He was a key confidant and strategist to Dr. Martin Luther King, Jr. during the critical years of the civil rights movement. In 1972 he was elected to represent Georgia's 5th district, the first African-American elected from the South since Reconstruction. He was appointed by President Jimmy Carter to serve as the U.S. Ambassador to the United Nations, the first African-American to do so. In that role, Ambassador Young established the framework for international negotiations that led to democracy in several nations in Southern Africa.
Young served as Mayor of Atlanta from 1982-1990, bringing jobs and seventy billion dollars in private investment to the City during a recession. Ambassador Young's leadership, vision and global reputation were instrumental in bringing the Centennial Olympic Games to Atlanta in 1996. Ambassador Young retired from GoodWorks International, LLC, in 2012 after well over a decade of facilitating sustainable economic development in the business sectors of the Caribbean and Africa.
Ambassador Young has received honorary degrees from more than 100 universities and colleges in the U.S. and abroad. His many awards include the Presidential Medal of Freedom, the NAACP's Springarn Medal and France's Legion d'honneur, the nation's greatest honor.