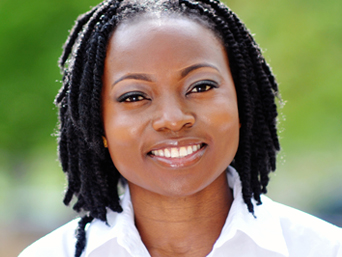 Agatha Achindu
Founder and Partner, Yummy Spoonfuls
---
A passionate advocate for food and health, Agatha Achindu's vision led her to innovate in the grocery sector. Starting in her home kitchen, she built the first nationally available brand of fresh-frozen organic baby and tots cuisine, Yummy Spoonfuls Organic Baby Food. The brand was immediately picked up by Dean & DeLuca, Whole Foods Market, and Amazon.com, and can now be found at Target stores nationwide, with further expansion this year.
Agatha left her career as an IT Executive to focus on her entrepreneurial venture, while juggling the roles of wife, mother, and health activist. From growing up on her mother's farm in Cameroon, West Africa, Agatha understands the journey of food from farm to table. She is an expert in all phases of entrepreneurship, including marketing, social media, distribution, packaging, supply chain and organic standards.
She uses her expertise to help other women meet their full potential, and teaches individuals and companies how to succeed in today's ever-changing business climate.
Agatha's work as an innovator, health advocate and business leader has been featured in outlets such as Today Show, CNN, CBS, CNN International, Fox Business News, Inc., Forbes Afrique, Fortune, People Magazine, and more, Agatha continues to grow and expand her company, provide leadership around business development, and advocate for children's health worldwide.