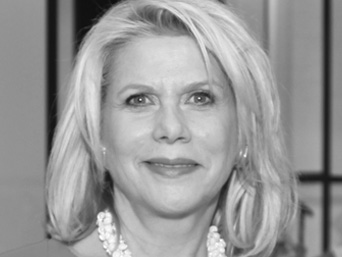 Francine LeFrak
Founder, Same Sky
---
Francine LeFrak is a social entrepreneur whose work has stirred the conscience of modern society. She is a multiple Tony, Emmy and Peabody award-winning producer of social issues films, and her productions have helped to turn the tide on a range of crucial issues such as the scourge of AIDS, the price of intolerance, the ravages of war, and the injustices of our prison system.
Francine's films are what inspired her to do more, and to become a social entrepreneur. In 2008, Francine founded the 'trade not aid' jewelry initiative SAME SKY that provides training and employment to women survivors of the Rwandan Genocide who are now living with HIV/AIDS. Francine offers them a hand-up, not a handout, by providing them with the dignity of work and the tools they need to lift themselves out of poverty. Inspired by the success abroad, Same Sky now provides employment to the women of The Most Excellent Way halfway house in Jersey City, who have recently been released from Hudson County Jail.
Today Francine is fully dedicated to eradicating extreme poverty through promoting and creating a marketplace for the ethical shopping movement. She stands for products that are handmade, possess authenticity and support artisan communities around the globe.
In recognition of Francine's commitment to empowering women, she has been honored with a number of awards including the Ellis Island Medal of Honor, the Women Together Award presented at the UN for microfinance, and the "Chevalier" of the Legion of Honor as presented by the French government. Francine spoke at the Forbes Philanthropy Summit at the UN and is a regular contributor to The Huffington Post's Impact Section where she contributes articles about "Creating the Demand for A Soulful Economy." She is the Chair Emerita of the Women's Leadership Board at the Harvard Kennedy School, a body of influential women leaders that advance issues related to women equality throughout the world.
Francine also serves as CEO of the Samuel J. and Ethel LeFrak Foundation, which supports institutions of higher learning, hospitals, and cultural institutions. She is a founder of The Francine A. LeFrak Foundation and The Same Sky Foundation that aims to promote the empowerment of women.