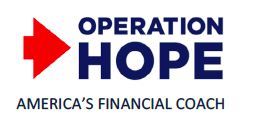 COLLABORATE TO ELEVATE COALITION
MEMBERSHIP AGREEMENT
Operation HOPE, a leading provider of financial literacy and economic tools and services, seeks to establish a coalition comprised of private sector, government, and community leaders and organizations to join forces and resources to combat the pervasive effects of COVID-19 on Americans. The coalition is focused on financial inclusion, physical and mental well-being and overall provision of comprehensive support, primarily aimed at serving the underserved of America. By completing the sections below, your organization is joining other national entities committed to helping Americans thrive once again, post COVID-19. Please check one or more of the categories below.